Ensense Antique - Agarwood Melange, Oud and Sandal
Sensual Precious Wood Incense...a love letter to the senses.
Sandalwood and Agarwood granules and of the highest grade imported from Japan.
A blend of various Premium Agarwood chips and powder from Thailand,
Blended with a generous amount of incredible Oud oils from Rising Phoenix
Elegant and pure when you want a transcendent incense experience. Sweet Sandalwood blended with premium Agar. The fine Agarwood powder form allows its scent to come through beautifully as the Sandal emerges - the perfect amount to balance the scent. Classic precious woods...enhanced by the finest Agarwood oils.
This price is for 6-7 grams in a glass vial sealed with beeswax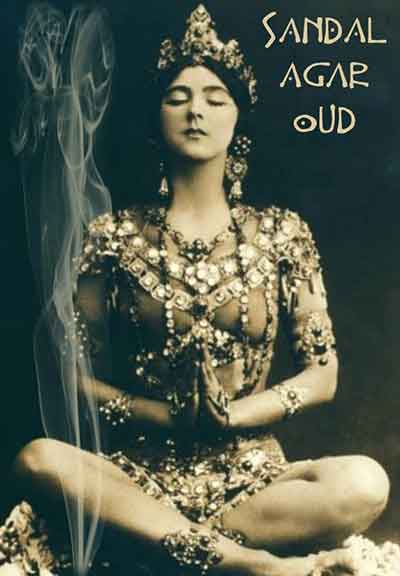 Ruth St Denis
From Mike at ORS:
Ensense Antique also uses a sandalwood/agarwood base, but the third ingredient here is an oud oil called "Wild Thai" from Rising Phoenix. As such, I would suggest, like with Kamiwaza, to apply gentle heat to this incense in order to not burn off much of the oud oil too fast. This oud oil is of the rich and spicy variety and it melds quite perfectly with the woods and it often seems like the scent dances somewhere in between them. It reminds me slightly of Ross Urrere's sandalwood and ambergris or souked aloeswood in that the general aroma is woody dry, while having some very complex top notes resulting from the ingredients being very high quality. In particular, the sandalwood comes through nicely on this one. All of these blends, as usual, come with the highest recommendation and it has been so much fun to see how Mermade is working in all sorts of incense world traditions, all of the blends created with such a deft and careful touch. And of course all of them are graced with Katyln's terrific artwork, spirit, and presentation, it never feels like any stone is unturned in reaching the final released work.
People who purchased this also purchased...