Labdanum Truffles - Mocha
$16.00
OUT OF STOCK
Notify me when it's back in stock
Labdanum Landifer coating (hand dipped)
Vanilla
Kua Myrrh for Creaminess
Benzoin
Black Omani Frankincense
Cacao and Coffee Absolute
Spice blend
Our new Labdanum Landifer from Spain is so fragrant and rich, it makes possible remarkable methods of fragrant incense creation!
These "Labdanum Truffles" have soft coffee, cacao, and oud center that is dipped in melted Labdanum and dusted with Agarwood powder.
They look and smell positively delicious…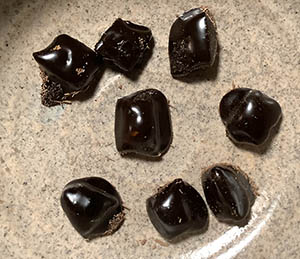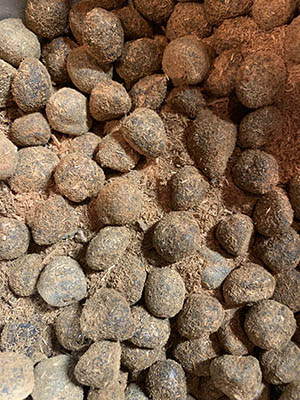 Contains:
Labdanum Landifer coating (hand dipped)
Vanilla
Kua Myrrh for Creaminess
Benzoin
Black Omani Frankincense
Cacao and Coffee Absolute
Spice blend
All the sweet yumminess of a chocolate truffle without a single calorie . The perfect desert incense.
What is a Truffle?
Chocolate truffles are round and dusted with cocoa powder. the name "truffle" comes from their resemblance to a mushroom-like fungus, considered a delicacy of the same name. the main ingredient besides chocolate is the rich creamy center .
This price is for .5 oz (6 truffles ) dusted with Agarwood, in a gold tin
People who purchased this also purchased...