Sultan's Green Frankincense - The finest grade - Oman - 2 oz
Sultan's Grade Royal Green Hougary Frankincense -Oman 2021 Boswellia Sacra, Oman-LIMITED QUANTITY AVAILABLE. Reserved by the Sultanate of Oman for the higher echelon of government and released in small quantities to select licensed applicants.
Also available in .5 oz size ($18) and 1 oz. size ($34) in a glass jar
The ultimate frankincense...
If I could have one incense to have with me on a deserted island, this would be it. After years of searching and trying to source this rare and perfect resin at last we have been allowed to purchase the best and most beautiful Green Sacra available. The large tears are shades of aqua, silver, and deep-sea glass green, the aroma is rich with notes of pine, lime, mint, and balsam. Simply heavenly.
I remember many years ago when Christopher (of White Lotus Aromatics) sent me a little bag of the Green Sacra to try, I was in heaven, yet there was the problem of finding it for Mermade to share. Well, the time has finally come when we have been blessed with a treasure trove of this fine frankincense. It is precious and needs to be used with respect and to be shared with those you care about, to be held as one of nature's most beautiful gifts to humankind.
If you have not experienced top grade of Green Sacra Frankincense, we highly recommend you do not wait, this is the finest. It may not be here forever.
Rarely available to the public, the Sultan's Grade, or The Sultanate's special Reserve, as it is sometimes called, is the cream of the Green Hougary Frankincense crop.
It is collected immediately after harvest and kept out of circulation by the Sultanate of Oman. It is the purest, greenest, freshest, and visually most beautiful resin of all the types of Frankincense harvested in Oman.
The Sultan's grade Royal Green Hougary is the only grade of Hougary resin on the market that tops the Royal Green Houjari in quality and color and it is rarely available to the public except once or twice a year when the Sultanate releases small amounts by special license after an extensive screening process. Even then, it is only dispensed in very small quantities. (20-50 Kilograms at a time). Many are those who apply for the privilege of purchasing this grade and few get the opportunity.
We are very fortunate to be able to offer this to our customers and wish to give thanks to the folks who helped us, Dan and Ali.
Sultan's grade Royal Green Hougary, like the Royal Green Hougary is used mainly for traditional medicine. It often is chewed, made into a healing tea, and used as an ingredient in traditional medicinal formulas.
These tears are fresh, fragrant, green, large, and well-shaped.
It takes many Kilograms of regular Hougary Frankincense resin to collect a handful of the prized "Royal Hougary" In turn, it takes many Kilograms of Royal Hogary Frankincense to gather a handful of the coveted Sultan Green Frankincense tears.
We recommend this be used on an Electric heater, which clarifies and extends the fragrant experience, but it is also wonderful when gently burned on good grade charcoal. The smoke can deeply scent a room.
This price is for 2 oz. in a heavy glass jar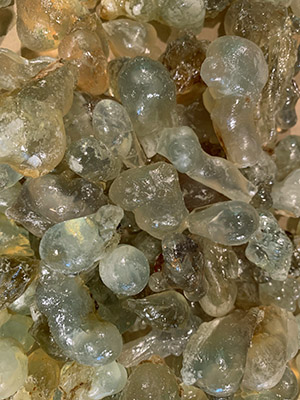 People who purchased this also purchased...