Superior Mixed Frankincense - Boswellia sacra, Oman - 2 oz.
This is a fresh shipment from Oman of top-grade Royal Mix Hougary Frankincense.
This year has brought us some of the finest resins we have ever seen (and smelled) and this Royal Mix is exquisite!
" Royal Mix Frankincense (Boswellia sacra), Hojari (Hougary) grade frankincense is considered by many to be one of the finest frankincense resins in the world. Frankincense is graded based on color, purity, aroma, age, shape and place of origin. This resin is comprised of Green, White Silver, and Amber Hojari resin. "Hojari" is generally considered the highest grade. It is characterized by relatively large tears, a faint green hue and a distinct aroma reminiscent of citrus, pine, and hints of eucalyptus. Used in production of natural medicines."
Its fragrance is amazingly clear and full, a frankincense lover's dream.
Traditionally reserved for medicine, high-end incense, and tea, Royal Hougary tears share a bright, sweet, amber, pine, mint, and citrus scent.
"This Frankincense is one of the types that contain Boswellic acids which have been shown in laboratory studies to be anti-inflammatory and cause apoptosis in a variety of cancer types. Royal Hougary is highly valued in traditional Arabian folk medicine."
It is a great pleasure to be able to offer the best in Frankincense.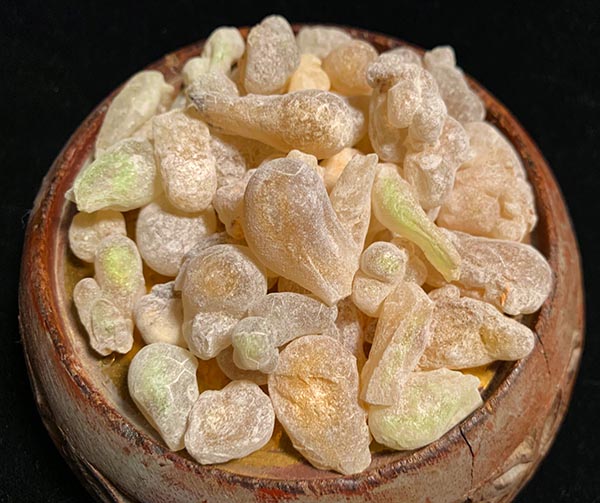 Photo of this frankincense misted with Frankincense EO, check out the variety of color!
This price is for 2 oz, a great price for this fine quality
People who purchased this also purchased...