Kua Crimson Myrrh - Commiphora Kua - Socotra/ Yemen
An amazing and rare Resin of the Island Socotra, a unique aromatic incense...
If you are an incense collector this is a must-try. Truly one of my favorite resins...
Commiphora Kua - (Commiphora abyssinica) From Island of Socotra off the coast of Yemen
It makes a long journey to get to Mermade - Carried by fishermen on boats off the island, through many ports, then sent on its way to our friend Denis in Moscow, who ships it to us!
Kua is a beautiful and rare resin we feel very lucky to have obtained. It is a Myrrh (Commiphora ) in the Burseraceae family, but it has a scent that is very unique. I was very moved the first time I experienced it, the color and feel are like Cherry Amber and the smell is soft and balsamic with notes that are incredibly wonderful but hard to describe. Some describe it as a "sweet coffee" aroma with a buttery creaminess.
We have very limited information on this resin and are in the process of researching, here is what we have so far.
The tree, Commiphora kua, is widespread but not common on the coastal fringes of northern Oman. Its is armed with large spines, and thick snake-like trunks yield a strongly aromatic sap. It is closely related to frankincense (Boswellia sacra) found in southern Oman.
Sometimes known as Abyssinian myrrh, is a species of flowering plant in the Burseraceae native to Africa and the Arabian Peninsula. It was first described by Otto Karl Berg in 1862 as Balsamodendrum habessinicum from northeast Africa. It was then transferred to the genus Commiphora by Adolf Engler in 1883, but given the name Commiphora abyssinica, an orthographical variant.
It contains an essential oil that is used in perfumes of the Oriental type, blending well with vetiver, geranium and sandal.
This price is for 1 oz.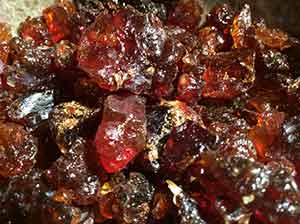 People who purchased this also purchased...