Copal Negro - Peru - Premium Protium grandifolium - 2oz.
We directly imported a big shipment of this wonderful premium dark copal from Peru. Some pieces are still slightly sticky inside and very fresh. It has been sorted and cleaned - ready to use. This is a great price for 2 oz. of classic black copal.
Copal Negro (Black Peruvian Copal) produces a complex, multi-layered scent. It has a lively earthy floral aroma that has its own special medicine, promoting well being and harmony. Its light woody notes are slightly sweet but cleansing and sacred. Very relaxing, it opens the respiratory channels.
Very different from White Copals. Brings balance and earthy sweet forest notes to blends. Sustainably gathered in the rainforests of Peru.
Works very well when burned on charcoal or on an electric heater.
On Black Peruvian Copal:
One of the most important incense-burning substances of the ancient American cultures, was believed to be a heavenly, sacred resin embodying the presence of the divine. It is written in the Mayan "Book of Wisdom" that copal was extracted from the tree of life by the divine god of the earth and given to humans as a gift. The Incas assigned copal resin to the sun and burned it on golden plates. Resin incense is harvested from the tree(s) that secrete it without any damage to the tree in the Amazonian Rainforest of Peru.
Copal is sacred to the indigenous cultures of the Central and South Americas. It is burned year round in the churches of Mexico but is best known for its use in the homes during Day of the Dead. It is said that the familiar scent of Copal helps the souls find their way back during their annual visit home.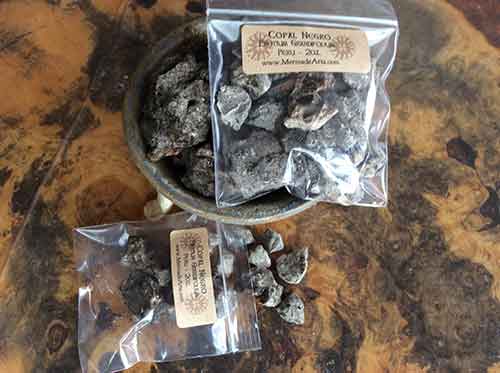 People who purchased this also purchased...